Everyone dreams of a beautiful smile. Due to the achievements of modern medicine, a brilliant smile is not a problem. But it is important to maintain the health and beauty of your natural teeth, as prevention is always better and cheaper than treatment.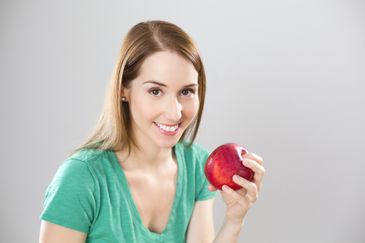 What can help you maintain a healthy smile for many years? Good oral hygiene, healthy food and regular dental exams can prevent many dental problems.
What is good oral hygiene?
Brush your teeth thoroughly in the morning and evening. Brushing your tongue and gums gently can also help you clean your mouth by removing bacteria.
Rinse your mouth with water after each meal to protect your enamel by removing food and sugar leftover. 
Floss your teeth regulatly to remove plaque, bacteria, and food debris. Avoid toothpicks that can easily injure your gums.
Use adental irrigator, also known as a water pick to remove food particles from your teeth. It can aslo help reduce bleeding and prevent gum disease.
Change your toothbrush every two months. When choosing a toothbrush, focus on its quality. The brush should ideally suit your teeth and gums. 
Change your toothpaste from time to time. Do not abuse whitening options. Consult your dentist to determine which paste is right for you. 
Dental exam in Kyiv, Ukraine
A regular dental check up is important because they help keep your teeth and gums healthy. You should have a regular dental visit at least every 6 months. Scheduled visits to the doctor will provide an opportunity to timely assess the condition of the oral cavity, identify diseases and cure them. Without waiting for acute pain, any person should undergo a dentist examination once every six months. Patients suffering from periodontitis, gingivitis, caries, need to come to the dentist more often - once every two to three months. Many believe that regular dental care is sufficient to prevent dental diseases, but this is not the case.A preventive examination of a dentist includes an examination of the oral cavity, obtaining the necessary recommendations, drawing up and discussing a treatment plan. If necessary, conduct professional brushing using special equipment and tools. The dentist will help you choose the right toothpaste and toothbrush with the right stiffness for a good cleaning of teeth from plaque. Thus, you can prevent diseases of the oral cavity, and treatment revealed at an early stage will be much cheaper.
Looking for cheap dental treatment abroad? Considering Hungary, Poland or Turkey for getting dental veneers? Get affordable dental care in Kyiv, Ukraine! Before you get your veneers, you'll have a preliminary appointment with your dentist evaluate your teeth's health for signs of tooth decay and gum disease. Afterwards a dentist will help you choose veneers that are right for you. 
Still thinking where to get dental veneers in Kyiv, Ukraine? Contact UA Destination to book a prosthodontic consultation to determine how many veneers are required or if veneers are the best option for you. Do you want to get dental hygiene or dental implants in Kyiv, Ukraine? Learn more here.