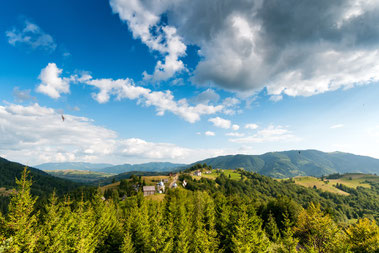 Ukraine comes close to offering everything that medical travellers look for: high quality treatment at reasonable prices, a low cost of living, a wonderful landscape of forests, mountain ranges, rivers and sea beaches. Ukraine is a European country with a singularly rich centuries-long history; that is why it is also a perfect destination for people who love to spend their medical vacations by exploring new cultures, learning new traditions and trying new food.   
But in addition, Ukraine is home to hundreds of sanatoria and rehabilitation centers, located in resorts or out of them, in areas with favorable climatic conditions and picturesque landscapes - in pine forests, in the Carpathian mountains, on the shores of lakes or rivers, on the Black Sea or the Azov Sea coasts. What do they offer? Sanatoria of Ukraine are used as therapeutic and preventive institutions for treatment and disease prevention with using some natural methods, including climate, mineral waters and mud, as well as physiotherapy, diet and medication.
During the Soviet era, Ukraine  was very  famous for its sanatoria. After the collapse of the Soviet Union, many of them are still in use as sanatoria and rehabilitation centers. However, today most of them can boast of renovated buildings, modern facilities with state-of-the-art equipment and technology. Some sanatoria have been converted into modern spa fully equipped centers specialized in a range of health and wellness treatments.
Treatments and prevention of diseases in Ukrainian sanatoria
In Ukrainian sanatoria and rehabilitation centers climatotherapy, balneotherapy, mud therapy and thalassotherapy are used in combination with exercise therapy, therapeutic nutrition and physiotherapy methods of treatment. Depending on the medical profile, sanatoria are equipped with appropriate diagnostic and treatment rooms: X-ray, electrocardiographic, functional diagnostics, physiotherapy, physiotherapy, as well as clinical and biochemical laboratories. 
Ukrainian sanatoria can offer the following treatments:
• Cardiovascular diseases
• Diseases of the gastrointestinal tract
• Diseases of the musculoskeletal system
• Endocrine diseases
• Respiratory organs and ENT organs
• Urological diseases
• Gynecological diseases
• Diseases of the nervous system
• Skin diseases
How much do holidays cost in Ukrainian sanatoria?
Prices in sanatoria depend on the season, living conditions, the number of days you want to stay, a set of basic and additional medical procedures. At the same time there is a flexible system of discounts and hot offers in Ukrainian sanatoria. But whichever sanatorium you choose, it is worth considering that the recommended course of treatment is 12-24 days.
Entertainment in a sanatorium of Ukraine
Treatment in a sanatorium would not be complete without an entertainment programme. If you're looking for holidays to relax and escape stress, you can be offered a swimming pool, a Jacuzzi, sauna and spa procedures with a range of different treatments and massages. Those who prefer active vacations will have an opportunity to try out many activities like fishing, Kayaking or hiking. Moreover, most sanatoria offer interesting excursions such as horse rides and trips to shopping areas to buy exclusive Ukrainian souvenirs or to rural area to have a glimpse of a Ukrainian local life.
So, choosing a sanatorium in Ukraine you will be able to improve health, as well as to enjoy a good rest. Take advantage of treatment and disease prevention in the sanatoria of Ukraine!