St. Sophia's Cathedral in Kyiv is one of the main and most beautiful attractions of the Ukraine's capital. Through the centuries, it bears its history and stands majestically next to the square of the same name, showing off in the golden light of domes under the sky.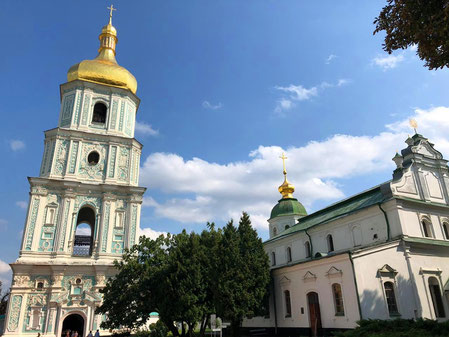 According to the chronicles, St. Sophia's Cathedral was built in the 11th century on the site of victory of Prince Yaroslav the Wise over the Pechenigy tribes. One version informs us that the construction of St. Sophia's Cathedral was laid by Prince Volodymyr Svyatoslavych, another version states the cathedral was built under the reign of Yaroslav the Wise, the son of Volodymyr. 
The cathedral was attacked and destroyed many times. In 1240, during the Tatar-Mongol invasion, St. Sophia's Cathedral was plundered by Khan Batu's hordes. Under the reign of Hetman Ivan Mazepa, in the XVII-XVIII centuries, the cathedral was completely rebuilt in the style of Ukrainian Baroque. In the years 1699-1702 a bell tower was built, at the same time the bells were cast. One of them, made in 1705, is still preserved on the second floor of the bell tower and called "Mazepa". It has got one of the richest ornamental decorations. The diameter of the bell is 1.55 m, height – 1.25 m. The weight is about 2 tons.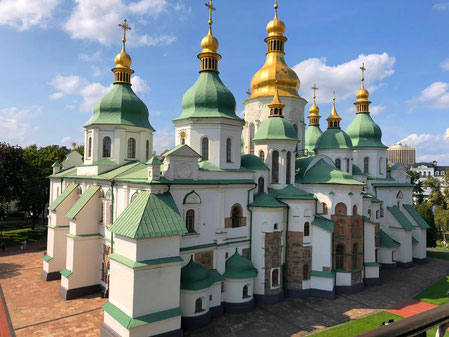 In 1934 St. Sophia's Cathedral, together with a bell tower, entrance gates and other objects, was given the status of the state historical reserve. In 1990, the cathedral was included to the UNESCO World Heritage List. St. Sophia's Cathedral bears the world's biggest collection of the 11th century mosaics and frescoes. Here are scenes from the lives of the saints, the faces of famous Great Saints and the faces of angels, the Apostles and illustrations to major church holidays and days. The gem of St. Sophia's Cathedral is the huge mosaic of Oranta, a six-metre figure of the Virgin Mary. For many years St. Sophia's Cathedral served as a burial place of Kyiv princes. In the cathedral remains of Yaroslav the Wise, his son Vsevolod and Volodymyr Monomakh are buried.
St. Sophia's Cathedral is a true masterpiece of architecture and one of the most amazing historical sites in Ukraine.
Address: Volodymyrska str., 24, Kyiv.