Do you know that there is a real fortress in the heart of Kyiv? And it's really true. The Oblique Caponier (Kosy Kaponir) is a part of the architectural complex "Kyiv Fortress", which is the largest in Europe and second largest in the world earthen fortress. It is located in the very center of Ukraine's capital and hidden behind the residential buildings. Only few people in the capital know about this construction.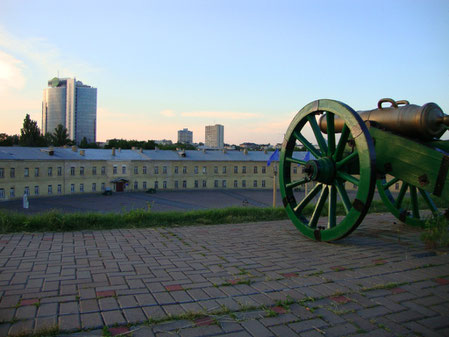 This important unit of the Kyiv-Pechersk fortress was built in 1844. In general, there were three fortresses on the territory of the modern center of Kyiv, including Old Kyiv, Podil and Kyiv-Pechersk areas, and which turned the whole city into a well-fortified fortress.
The Oblique Caponier is a semi-underground structure with thick walls made of brick and stone. The name "Kosy" ("Oblique") arose from the fact that the Caponier was built to conduct flanking fire at an angle to the earthen rampart of the fortress.
The Oblique Caponier was originally used to store weapons and artillery supplies. However, in the middle of 19th century, it was turned into a political prison. For its cruelty, the Oblique Caponier was called "Kyiv Shlisselburg." Among the first victims of the Caponier, there were the participants of the Polish insurrection of 1863. In Soviet times, the Kyiv garrison guardhouse was located on its territory. 
Today, the Oblique Caponier invites you to visit its museums, which presents data and stories about famous prisoners, describes the living conditions of the prisoners, including the death carriage, in which they were sent to be executed. Besides, on the territory of the fortress you can see real moats and mounds of earth, which served as defense ramparts, wooden fences made of sharp stakes, cannons, bridges and arches, thick brick walls, loopholes, entrances to underground galleries.
You can come here with your family and friends, have a stroll and admire a beautiful view of the city's center and the NSC Olimpiyskiy.
Address: Hospitalna str., 24a, Kyiv.