The monument to Hetman Bohdan Khmelnytsky, located in the heart of Kyiv, in front of St. Sophia's Cathedral, is one of the most famous monuments of Ukraine's capital. It was erected in honor of Hetman Bohdan Khmelnytsky, who entered the history of Ukraine as an outstanding commander and statesman. He was a true national hero who led the rebellion of the Ukrainian people against the Polish nobility and wanted to see Ukraine independent.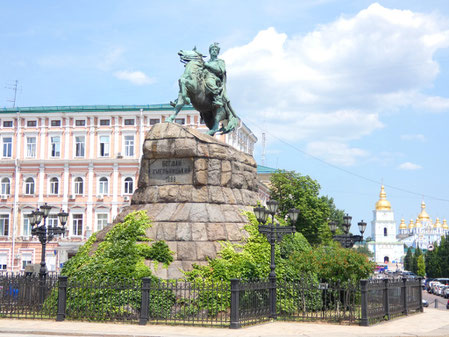 The idea of creating a monument to Hetman in Kyiv appeared in the 19th century, and its initiator was the famous historian, professor of the Kyiv Institute Mykola Kostomarov. The idea was finally supported in 1860, along with permission to establish a monument. The creation of the project was entrusted to the sculptor Mykhailo Mikeshin. According to his plan, the composition of the monument turned out to be very "tough" - Bohdan Khmelnytsky's horse pushed the Polish nobleman, the Jewish leaseholder and the Jesuit from the cliff, in front of which a Little Russian, Red Russian, White Russian, and Great Russian were listening to the song of a blind kobzar.
However, in connection with the lack of money and rather "sharp" plot of the monument project, they decide to build only a figure of the hetman, without the rest of the characters. The statue of the hetman was cast at the St. Petersburg plant in 1879, and immediately transferred to Ukraine's capital. But in Kyiv, the figure of Bohdan Khmelnytsky had to wait for several years, as a pedestal was not built because of the lack of funds.
Only in 1885, a pedestal was created, which was much simpler and cheaper. Besides, the architect and the author of the pedestal Volodymyr Nikolaev built it absolutely free of charge. The part of the stones for the pedestal was donated by the Kyiv fortress. The monument to Bohdan Khmelnytsky in Kyiv was erected solemnly in 1888, in honor of the 900th anniversary of the Baptism of the city. Around the monument several legends immediately arose. One of them says that initially the monument was erected so that the hetman's mace pointed to Poland, but it turned out that the tail of the horse was turned towards St. Michael's Golden-Domed Monastery, which was completely wrong. After that, the monument was erected so that it points with a mace towards Scandinavia.
Bohdan Khmelnytsky Monument impresses with its dynamism. Like a rider, on a full leap, he mounted a horse to appeal to the people. The portrait resemblance to the prototype, as well as the details of the clothing, is quite accurately conveyed.
Address: St. Sophia Square, Kyiv.