The monument Chasing Two Hares is a popular monument dedicated to the famous movie characters. It is located near the St. Andrew's Church where one of the most famous scenes of the film took place. Chasing Two Hares (Ukrainian: Za dvoma zaytsiamy) is a Soviet comedy film directed by Viktor Ivanov based on the play by Mykhailo Starytsky. This Soviet movie filmed in 1961 is considered a symbol of Soviet and Ukrainian cinema of that time. The whole film is saturated with the Kyiv atmosphere, because it was shot on the Andriyivskyy Descent.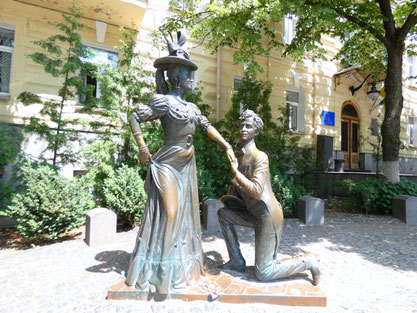 Initially, the film was shot in the Ukrainian language, as it received the second category and was planned to be shown only on the territory of the Ukrainian SSR. But thanks to the wonderful humor and talented play of the actors Oleh Borysov and Marharyta Krynytsyna, the movie gained immense popularity. It was redubbed into Russian. The comedy "Chasing Two Hares" was included in the golden fund of Soviet cinema.
According to the story, Svyryd Petrovych Holokhvostyi has his own barbershop in a town and a reputation of a dandy. Once, after losing everything, he decides to remedy his financial situation by a profitable marriage. He is going to marry an ugly rich woman Pronia Prokopivna to solve his financial problems, but pines for the beautiful girl Halya who despises him. So, he tries to go for two girls at once, but we know when you run after two hares, you will not catch any.
The monument was erected in 1999. The sculptors Volodymyr Schur and Vitaliy Syvko depicted the moment when Svyryd Holokhvostyi, kneeling, offers his hand and heart to Pronia Prokopivna, and she, in turn, holds out her hand for a kiss.
Today, the monument is a favorite place for tourists. Kyivans believe that thanks to bronze heroes, you can find family well-being and happiness. For example, if a woman wants to find happiness and luck in her personal life, then she needs to hold on to the ring that Pronia Prokopivna has on her right hand. And a man should rub the scarab beetle on the back of the Holokhvostyi to find love. It is also popular to rub the noses of the heroes.
Address: St. Andrew's Descent, 23, Kyiv.