The funicular in Kyiv is an indispensable part of transportation systems of the city and a very popular attrac among Kyivans and guests of Ukraine's capital. Every day, the funicular, despite its seemingly low speed (only 2 meters per second) manages to serve 15,000 passengers and approximately 3,000,000 people during the year.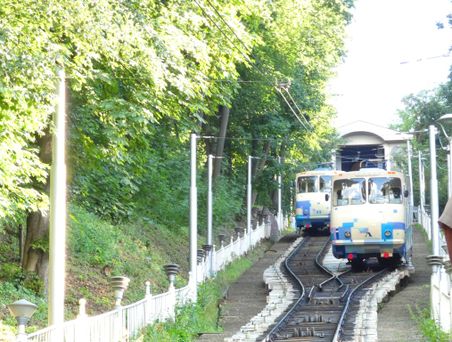 The funicular runs on rails more than 200 meters long from Podil to the Upper Town. The lower station is called "Postal Square" and is located next to the Postal Square and the River Station. The upper station is located on the terrace of Volodymyrska Hirka near Mykhailivska Square.
The construction of the funicular began in 1903. This is one of the first funiculars in the former Russian Empire. In May 1905 it went into operation, after the Kremlin and Pohvalinsky elevators in Nizhny Novgorod opened in 1896 and the Odesa funicular opened in 1902. The funicular cars of that time were made of wood, and moved at the same speed as in our days. It is noteworthy that all the equipment was custom-made in Switzerland. In the initial project, it was planned to build a highway with a length of 250 meters. But unfortunately a private estate prevented the project from becoming a reality. The owners demanded an excessive amount of compensation for the demolition of the building. In that regard, the path was shortened by 40 meters, and the lower station was located on Borychiv Tik. In 1929 the problem was solved by the Soviet authorities during the overhaul of the road. The length of the rail was increased, as planned according to the previous drawings, and went from Mykhailivska Square to a new stop Postal Square.
The residents of Kyiv, as well as guests and tourists of the capital, ride on the funicular with pleasure. As during the ride, they have an opportunity to admire the panorama of Podil, the Dnieper and Trukhaniv Island. Enjoy a ride on a funicular railway and get unforgettable memories!