The key to healthy teeth and gums is maintaining oral hygiene. Proper dental care can help keep your teeth healthy and free of tartar, strengthen your gums, and neutralize bad breath. Dental hygiene includes care of the oral cavity and removal of plaque on the teeth in order to avoid diseases.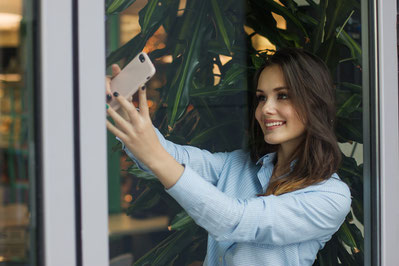 Regular dental visits, which include checkups and teeth cleanings, are very important and can help prevent diseases in the mouth. During the exam, your dentist or hygienist removes plaque, calculus & stains from teeth. If a patient has a gum disease, a dentist may recommend a dental procedure called dental scaling, which helps to remove plaque and tartar from your teeth and treat gum disease. Thus, professional teeth cleaning is an essential part of preventive dentistry. Professional oral care is carried out in two ways:
• Ultrasound. This is a modern and painless technique that helps get rid of dental plaque. Ultrasound which effectively destroys tartar. The remaining particles are washed with water.
• Air-Flow. This is an innovative whitening system, which is based on a strong air stream with the addition of water and soda. It eliminates deposits accumulated on enamel, helps get rid of yellow plaque.
Who needs professional dental cleaning?
Even healthy teeth and gums need regular professional brushing. This procedure will help you keep your teeth strong and healthy. And in those cases when a patient has the inflammation of the gums or other pathological process, brushing is actually the only way to avoid tooth loss. It is recommended to see a dentist or dentalal hygienist at least twice a year. But if your dentist considers you should do cleanings more often, you will be informed. Sometimes, the frequency of teeth cleanings can be reduced if there are any general medical or dental contraindications. For example, if you recently had a tooth removed, you are in the process of prosthetics or dental implantation. In some cases, for example during pregnancy, it is necessary to consult your doctor before teeth cleaning. 
Home oral hygiene
Oral hygiene products at home are designed for independent and daily use. These are toothbrushes, pastes, flosses and rinses. They can help to remove food debris, prevent the appearance of tartar, freshen breath. However, in order to achieve the expected effect, you need to be able to use them correctly.
Brushing teeth
Despite the fact that this procedure is familiar to everyone since childhood, most people do not know how to use a toothbrush correctly. To save on dentist services, the following rules must be observed:
• Cleaning is carried out for at least 3 minutes;
• First the lower dentition is cleaned, then the upper one;
• It is better to start from the front teeth, gradually moving towards the molars;
• Brush your teeth in the direction of growth, not forgetting to treat the surface in a circular motion;
• Before completing the procedure, it is necessary to remove plaque from the tongue.
After that, the mouth should be rinsed with a special liquid. You need to brush your teeth at least twice a day.
Flossing
Floss helps get rid of food debris stuck between your teeth. Use the thread as follows:
• Pull a piece of floss from the cassette, about 40 cm long;
• Wrap the thread on the middle or index finger of the right and left hand, in such a way that a piece remains free, no more than 5 centimeters long;
• Stretch the floss and insert it into the interdental space;
• 5 movements are required to clean each gap.
For each interdental space, a new section of floss is used. To do this, the floss is gradually unwound from the finger of one hand, and wound on the other.
Irrigators
These devices were originally developed for oral hygiene, therefore, they help to clean even inaccessible places. An oral irrigator, also known as a dental water jet or water flosser, is very efficient. Irrigators use a stream of high-pressure pulsating water in order to remove plaque and food debris. The benefits of using irrigators are the following:
• Massage effect. They stimulate blood circulation and prevent gum disease;
• Irrigators are suitable for the care of crowns and braces;
• An oral irrigator disinfects the oral cavity, effectively destroying any pathogenic microflora.
Dental hygiene and consultation in Ukraine
Considering dental care in Europe? Dental procedures are very expensive, no doubt. Dental prices depend on a range of factors, including location. Dental clinics in Ukraine are modern and equipped with the latest technology. What's the cost of dental care in Lviv? How much do dental implants cost in Kyiv, Ukraine? Dental prices can vary drastically, from budget-friendly solutions to expensive ones. But anyway, the cost of dental treatment in Kyiv or Lviv is lower than the price in most European countries. Learn more about the cost of dental bridges, dentures, veneers, crowns and dental implants in Kyiv and Lviv here.
Do you want to book your next dental check up and teeth cleaning appointment in Kyiv or Lviv, Ukraine? Looking for a good dental clinic in Kyiv or Lviv, Ukraine? Contact UA Destination team and we will help you find an experienced and reliable dentist in Kyiv or Lviv, Ukraine.
Affordable dental implants in Kyiv and Lviv! Dental care in Ukraine at reasonable prices! Low-cost dental implants in Europe!