Kyiv has plenty of architectural masterpieces. Furthermore, the city can boast of different architectural styles, including Stalinist architecture. One of its best examples is the National Complex 'Expocenter of Ukraine', also known as VDNG or VDNKh. Until 1993, the complex has been called the Exhibition of Achievements of the National Economy (Ukrainian abbreviation: VDNG).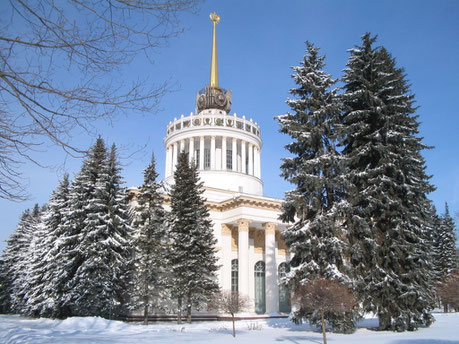 In 1949, the Resolution of the Council of Ministers of the USSR on the construction of a Republican Agricultural Exhibition in Kyiv was signed. The construction began in 1952. And 6 years later the exhibition complex was opened. The official opening of the exhibition took place on July 6, 1958. The best artists and sculptors of the republic were attracted to the design of the pavilions. Stalinist architecture, also called Socialist Classicism or Stalinist Empire style, was used in the construction. About 180 buildings were built on the territory that covered 286 hectares. 20 of those buildings currently bear the status of Ukraine's landmark of cultural and historical significance.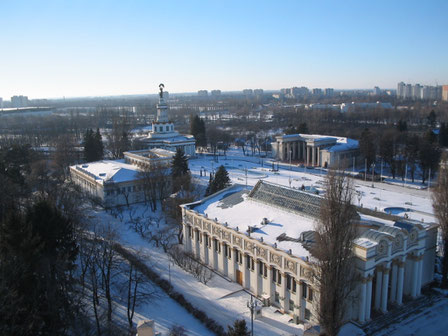 During the work of the exhibition complex was visited by well-known people such as Vietnamese leader Ho Chi Minh, French President General De Gaulle, UN Secretary-General U Than, President of Yugoslavia Broz Tito, Indian Prime Minister Shastri, British Prime Minister Margaret Thatcher, US Agriculture Secretary Ezra Taft Benson and others.
The exhibition complex was the organizer of all exhibitions devoted to significant dates in the life of the country and its people, many prestigious expositions outside of Ukraine, including those in Leipzig, Montreal, Brno, Hanover, and Moscow.
In 2000 VDNG lost the position of a leader in the exhibition business of Ukraine. However, in 2015, a new team of managers gave new breath to the exhibition. Today, different events are held there, including fairs, concerts, sports events and festivals, business and corporate congresses, Ukrainian performers and 3D shows. The winter entertainment fest "Winter Country" with the central office of Ukrainian Santa Claus is organized on this territory. One of the most popular events that is held on the territory of VDNG is Atlas Weekend. The exhibition also hosts such popular events as Agro, the Innotech 2018 Exhibition of Innovative Technologies, the Craft Beer Fest Festival, the Food and Wine Festival, and so on. In 2018, the exhibition complex became a permanent location for the famous event with a flea market, food court, DJs, musicians, an inclusive children's zone and entertainment - Curaz Bazar.
Picturesque landscapes, lakes, fountains, and interesting events make VDNG one of the most favourite places of Kyivans and the guests of Ukraine's capital.
To book a tour to VDNG, contact UA Destination.